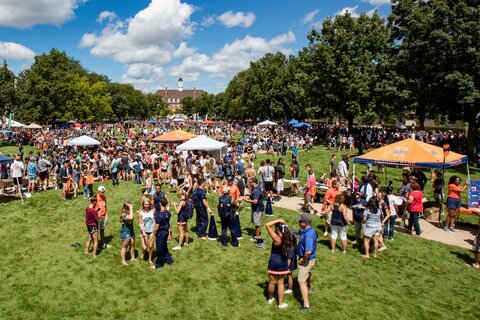 We're so excited for you to join the Illinois and School of Chemical Sciences families this fall! In this last week before the start of the semester, we wanted to remind you of some important information, opportunities, and deadlines.
First, be sure to visit the Illinois COVID-19 Guide for a comprehensive list of steps to take as you prepare for the semester.
Second, take a moment to read two blog posts from past SCS Student Advising Leaders, Milena Nutrobkina (ChBE, May 2021) and Elizabeth Jones (Chem, May 2021). They both provide a perspective on things that new, first year SCS majors should keep in mind.
CLASS REGISTRATION & MEETING WITH YOUR ADVISORS
Friday, August 20 – You can make adjustments to your fall 2021 schedule
If you're unsure of what changes you may need to make to your schedule based on AP, IB, other exams, or any other reason, please meet with your SCS advisor. We also strongly recommend that you meet with your advisor before making any changes to your technical courses like Math, Chemistry, Physics, CS, etc.
ORIENTATION & WELCOME EVENTS
 
Friday, August 20 at 1:30 p.m. – Come say hi to us in person at LAS Liftoff
Sunday, August 22 from 12 p.m. – Learn more about various Registered Student Organizations (RSOs) during Quad Day
For a full list of fall 2021 orientation events, see the Welcome Week Schedule

BOOKS & OTHER RESOURCES
Books – To order books for fall 2021, visit the Illini Union Bookstore's website
Email – You should be using Outlook to access your official university email address. If you are having issues with your official email, contact Illinois Tech Services
Campus Study Spaces – We know many of you will be balancing in-person and online classes this fall, so be sure to bookmark this guide to on-campus study spaces
 
IMPORTANT FALL 2021 DATES & DEADLINES
Friday, September 3 – deadline to ADD a full semester (16 week course)
**We advise against adding a new class after week 1 (August 28)!

Friday, September 17 – deadline to DROP a Part of Term A (8 week course)
Friday, October 15 – deadline to DROP a full semester (16 week course)

See the full Fall 2021 Academic Calendar