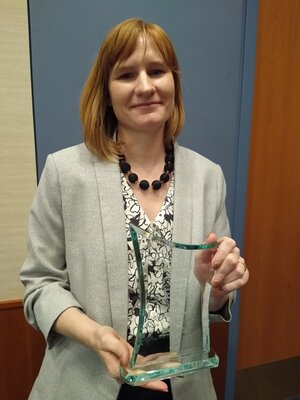 Kimberly Powers, Academic Advisor in the School of Chemical Sciences, was recognized with the LAS Award for Excellence in Undergraduate Advising for her outstanding impact on students in the departments of Chemistry and Chemical and Biomolecular Engineering.
Kimberly is well loved by her students and over 98% of students have stated they would definitely recommend her to their friends.  Her students mention how personable, friendly, and accessible she is and repeatedly comment on her willingness to listen to and champion them.
In her four years with SCS, Kimberly has initiated a number of new programs and services, including the required CHEM 150 course for all new Chemistry majors.  She also implemented a unique new student registration model and expanded Express Advising.  
Outside of the School, Kimberly has served the College of Liberal Arts and Sciences in a number of capacities and contributed to the Review Committee for Honors applications.  She is active with various state, regional, and national Academic Advising associations as well.
The School of Chemical Sciences is truly blessed to have Kimberly Powers on our team and we are excited the College has recognized her efforts as well.
Visit LAS to see more teaching and advising award winners.