LAS Academic Professional Awards, 2012-2013
These award nominees are evaluated in terms of achievement in work, personal, and professional contributions. The LAS Awards Committee, assisted by previous winners of this award, review and rank nominations, and final recommendations are approved by the Dean.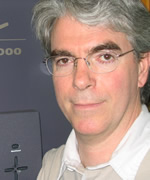 Chuck Wallbaum is director of the SCS Computer Applications & Network Services (CANS). He oversees the School's computer and network services as well as electronic services. Chuck's nominators write that he has repeatedly demonstrated excellent leadership skills in mentoring co‐workers and encouraging each of them to go beyond their comfort zone and keep pace with new technologies, that his ability to anticipate new directions in computing and electronics has been critical to the faculty and their research missions, that he has created an environment of encouragement and excitement and built an incredible team of dedicated workers, and that he's an active partner in the research endeavors of the SCS faculty. In a sentence, "Chuck is a rare individual who really makes a difference."
SCS Outstanding Staff Awards, 2012-2013
This year's staff awards recognize the following individuals:
Chad Stevens
Chad Stevens is Director of SCS Facilities and Safety. One nominator writes "Chad is an unsung hero that has kept these old facilities functional for staff and faculty for over 12 years. In his new role as Director of Facilities and Safety he continues to go over and beyond expectations." Another nominator writes "He is an outstanding contributor to our Department in so many ways." and "t is clear that he is strongly committed to doing all that he can to create an environment that is conducive to the pursuit of world class research."
Theresa Struss
Theresa Struss is an Office Support Specialist in the Inorganic, Materials and Physical Chemistry office. One nominator writes Theresa is "key to the success of IMP graduate student recruiting" and that she "goes way above and beyond the call of duty." Another writes that she performs her day-to-day service "in a highly professional, resourceful, respectful, and prompt way" and that "Theresa is one of the best employees of SCS and what makes this school so effective, respected, and successful."
SCS Staff Awards, 2011-2012