2015-2016 Chanellor's Academic Professional Excellence Award
The CAPE Award is designed to recognize the importance of contributions made by academic professionals.  Annually, six awards are given.  Nominees are evaluated on three criteria: work, personal, and professional contributions.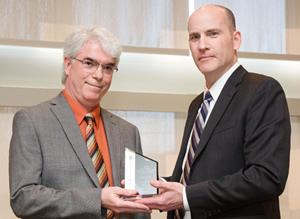 Congratulations to Chuck Wallbaum, Director of the School of Chemical Sciences Computer and Electronic Services.
The awards were presented, Tuesday, April 12, 2016 in the Ballroom of the Alice Campbell Alumni Center.
Below is an exerpt from the Inside Illinois article about the 2016 CAPE Awards.
"Chuck's management style is to create a positive and easygoing atmosphere. He is highly encouraging of his staff to expand their education and their experiences," said Zaida Luthey-Schulten, a professor of chemistry, who nominated Wallbaum.
Wallbaum "created a world-class computational facility, which provides faculty and researchers with rapid access to computational clusters instead of the long wait times at heavily used national resources," Luthey-Schulten said.
He led the design of the 2,000-square-foot data center facility, and he was instrumental in solving the problems of installing modern-performance computing equipment. He has helped faculty members at the School of Chemical Sciences in maintaining national acclaim and win prestigious awards, according to Luthey-Schulten.
Wallbaum, who has worked at the U. of I. for 12 years, wrote part of the $350,000 grant that was funded by the National Science Foundation's Critical Resource Initiative Facility program. He also maintains the unique Scientific Software Programs portfolio of commercial software, which provides research groups with access to cutting-edge software for molecular modeling and drug design.
"Chuck brought a new level of communications to his position in the school. When he arrived here 12 years ago, he sought the advice of his peers on campus and forged relationships, which have proved long-lasting and fruitful," Luthey-Schulten said. "Instead of reinventing the wheel, Chuck was able to take ideas from other units and blend them with his own ideas. Chuck's management style is one of respect and encouragement for his co-workers. He has encouraged them to recognize the unique qualities they have and develop those qualities so they can take on new challenges."
Luthey-Schulten said Wallbaum is one of the reasons that the School of Chemical Sciences has maintained its national stature of excellence.
Jonathan V. Sweedler, the director of the School of Chemical Sciences, said, "Chuck demonstrates excellent leadership in mentoring his team, encouraging each member to go beyond his comfort zone and keep pace with new technologies."
Sweedler said Wallbaum's ability to anticipate new directions in computing and electronics has significantly helped the faculty and their research missions.
"Our faculty are so impressed with Chuck's leadership and knowledge that his reputation has spread beyond our campus," Sweedler said.