2016-2017 Campus Award for Excellence in Instruction
The Campus Award for Excellence in Undergraduate Teaching recognizes sustained excellence in and innovative approaches to undergraduate teaching and contributions beyond classroom instruction that have an overall positive impact on undergraduate student learning.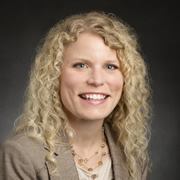 At an April 26 reception at the Alice Campbell Alumni Center, Gretchen Adams was honored with a 2016-2017 Campus Award for Excellence in Instruction - Specialized Faculty. She is a Department of Chemistry instructor and the director of Undergraduate Studies and the Merit Program. Adams is an extremely talented teacher who has had a tremendously positive impact. She has a passion for and commitment to underrepresented students of all ages through her volunteer STEM outreach efforts. In the Chemistry Merit Program, Adams works with over 500 students interested in STEM majors. The program builds study skills, teaches materials that may not have been taught at the high school level and creates a supportive network involving fellow students. She was previously awarded a University Distinguished Teacher-Scholar Award. UIUC NewsBureau article.
2016-2017 LAS Excellence in Undergraduate Teaching by Instructional Staff Award
The purpose of the award program is to reward and honor the college's best teachers. The program is supported by alumni and friends of the college.
Gretchen Adams
Congratulations to Gretchen Adams, who on April 20, 2017, received the 2016-2017 College of Liberal Arts & Sciences Award for Excellence in Undergraduate Teaching by Instructional Staff. at the LAS Teaching Excellence Awards Ceremony