THE SCS STOREROOM IS CURRENTLY CLOSED
Beginning on June 1st (pending state approval), the SCS Storeroom will only be available to handle purchases submitted via email.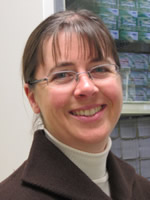 SCS Construction Project Coordinator
SCS Storeroom Coordinator
94 Roger Adams Lab
(217) 244-0985
ksouther@illinois.edu
Storeroom General Rules
Remove gloves in lab before coming to storeroom
Use bottle carriers to transport liquid chemicals in quanities larger than 250ml.
Chemical Hazard Classification (GHS) Safety Data Sheets' Links
Searchable SDS Database - Housed by Vermont SIRI (Safety Information Resources on the Internet), this site offers an extensive and well designed searchable database for Safety Data Sheets (SDS).