THE SCS STOREROOM IS CURRENTLY CLOSED to walk-in visitors.
The SCS Storeroom will only be available to handle orders submitted via email - send to scs-storeroom@illinois.edu. Please include as much detail as possible in your order request.
Orders will be filled as quickly as possible and an email confirmation will be sent when orders are ready for pickup at their designated location. Please allow at least 24 hours for your orders to be filled.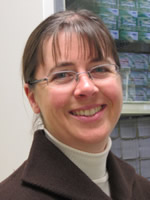 SCS Construction Project Coordinator
SCS Storeroom Coordinator
94 Roger Adams Lab
(217) 244-0985
ksouther@illinois.edu
Storeroom General Rules
Remove gloves in lab before coming to storeroom
Use bottle carriers to transport liquid chemicals in quanities larger than 250ml.
Chemical Hazard Classification (GHS) Safety Data Sheets' Links
Searchable SDS Database - Housed by Vermont SIRI (Safety Information Resources on the Internet), this site offers an extensive and well designed searchable database for Safety Data Sheets (SDS).