CELL CULTURE
MEDIA
The facility provides medium in both standard and custom formulations. Standard media which are commonly prepared are DMEM, MEM, RPMI 1640, DME/F-12, L-15, and McCoy's5A. These media can be customized by the addition of supplements such as HEPES and sodium pyruvate. Serum and antibiotics may also be added to the medium for an additional fee. If completely custom formulations are needed, the facility can make them in the required amounts at a fraction of the cost that would be charged by commercial sources. Media can be obtained in either 500mL or 1L bottles.
Standard cell culture medium offered by the facility:
Alpha MEM#                                              
DMEM (high or low glucose)#
DMEM (glucose-free)#                  
DMEM/F-12#
Ham's F-10
Ham's F-12#
Ham's F-12K
IMEM#
Iscove's Modification of DMEM (IMDM)
L-15#
McCoy's 5A#
Medium 199#
MEM (Earle salts)#
MEM (Hanks salts)
RPMI 1640#
Waymouth
Williams E
# Medium is also available without phenol red
CELL MAINTENANCE
Housed within the facility are 2 large CO2 incubators and 2 laminar-flow hoods. It is therefore possible for the facility to grow and maintain cell lines upon request. Assistance in the cryopreservation and recovery of cells, as well as, training in other basic cell culture techniques are also available.
For labs that are seeking a place to culture cells, the facility can provide a complete biosafety level 2 work area.
 
COMPETENT CELLS
The facility keeps in stock a supply of chemically competent DH5α cells. Each batch of cells is tested for both efficiency and possible DNA contamination. The efficiency of each batch is guaranteed to be at least 7 X 107CFU/µg. Most of the batches have an efficiency of 108. Cells are sold in 500µL aliquots, the unused portion of which may be refrozen once in smaller aliquots without a loss of efficiency.  If other strains of competent cells are needed, they can be requested as a custom service.
CULTURE PLATES FOR BACTERIA AND YEAST
Culture plates can be economically prepared by the facility with the assistance of an automatic plate pourer which greatly reduces labor time.
The facility keeps the following types of plates in stock:

LB (no antibiotics), individually wrapped 
LB+chloramphenicol (25µg/ml), individually wrapped
LB + ampicillin (100µg/mL) in sleeves of 20 
LB + kanamycin (50µg/mL) in sleeves of 20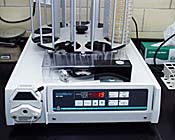 These are available from a refrigerator in 490 RAL, 24 hours a day. Custom plates containing other types and combinations of antibiotics or supplements can also be prepared upon request.
Since yeast plates are custom made, the charge for such plates is based on the cost of any unfurnished materials plus labor time.
CRYOGENIC CELL STORAGE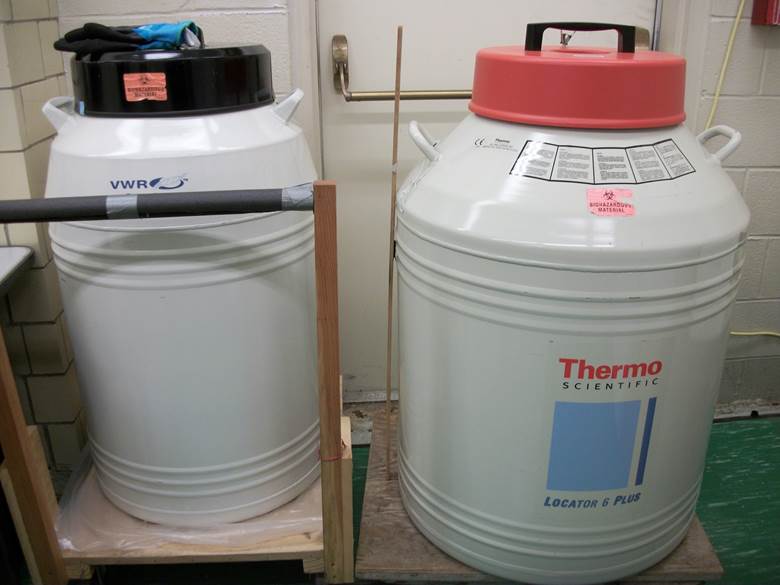 For a small annual fee, the facility can provide a safe place to store your animal and human cells.  A single storage box can accommodate 81 vials of cells.